Date: September 15th, 2022
by: Hailey Palella
Second Full Day with the First Graders:
Going into today was tough, I had something personal happen right before entering the school, I am actually surprised that know one asked me why I was crying while walking into the building. I must have a good poker face. After I checked into the front desk, I decided before going into the classroom, to take a few minutes to myself in the bathroom and calm myself down. I did this because I knew that when I walked inside the classroom I needed to have a game face on. So that is what I did. I didn't tell my MT what happened this morning because my personal issues should not be in the classroom, I had to let it go before going in the door, which was challenging, but I did it. After seeing the students this morning, it made me feel so much better. They make my life worth living for.
Last week, my MT expressed that she thought it would be a good idea for me to read a story to the class in order for me to get more comfortable being in front of the class teaching. I loved this idea! I was on board with it! She mentioned last week that the "theme" for this week was school rules. My MT showed me the books that pulled out for the theme and she told me to pick any story. The story that I read to the students today was called, "What if Everybody Did That" written by Ellen Javernick. This book was about a young boy who makes poor decisions throughout the story, for example, throwing garbage on the ground. When adults witness the young boy doing this, they ask him, "What if everybody did that?" The adults in the story are trying to push the boy to reflect on his actions and to think about if everyone was making the same decisions that he was choosing to make. The boy uses his reflections to make better choices. Throughout the story, I asked and discussed with students the importance of school rules and being respectful to others, themselves, and the world around them.
Overall, today was a great day. I have mastered all of the students names and implemented my interest inventory to all of the students' present today. I pulled students one by one into the hallway to administer the questions to them. They were all so cooperative and did very well with going to in the classroom and tapping the next person's shoulder to come out and see me. They are great listeners!
The same as last week, I jumped right in! My MT mentioned to me at the end of the day how comfortable I am within the classroom and I discussed back with her that I have been working in daycare and also the other field experiences that I have been in have helped me as well. She mentioned that it is a good thing that I am comfortable and that she can tell that my work experiences have really helped me.
My goal for next week is to continue to get to know each student better and jump in more during math! I would like to start teaching some practice problems in math and showing/modeling the answers for the students. The school has a strict curriculum for math and phonics, so pretty much the teaching is reading right from the curriculum book; there is no way around it, which I think is nice!
Highlight of the day: when a student says, "bye, see you next week." Melted my whole heart.
I can't wait for next week!
book selection from my MT:
Here is a picture of the book I read today!
"What if Everybody Did That" written by Ellen Javernick.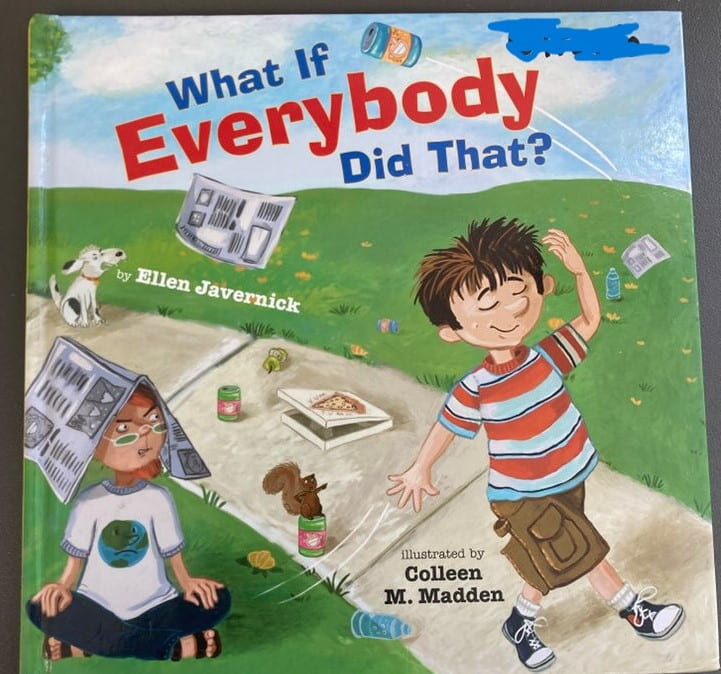 posted at 5:47pm- Thursday, September 15th, 2022
---